Siambasa® belongs to the grass family, more specifically to the Panicum Maximum species, with which we achieve an excellent relationship between production and quality. It is an excellent alternative both in the agricultural and livestock sector since it combines high forage yield with excellent nutritional quality, reaching high protein values and excellent percentages of fibre, energy and digestibility.
Another fact to bear in mind is that it is easy to handle, as it can be packed at high temperatures without any loss of quality due to leaf fall. Pasto Siambasa is a crop that in its conformation has an 80% leaf, can be used both for hay, silage or direct grazing.
Pasto Siambasa the fodder of champions.
High forage yields
Very rustic plant
Salinity tolerance
Resistance to pests and diseases
Excellent stem-to-leaf ratio up to 80% leaves
In vitro digestibility up to 80%
Protein content of 14% – 16%
Use for hay, silo and grazing
Scientific name of the species
Common name of the species
According to production areas (annual or multiannual up to 6 years)
Deep, well drained. Sandy franc, frank and loamy loam
Tolerance to waterlogging
Total dry matter production/ha
18,000 - 24,000 kg of Dry Matter /ha
Since the beginning of the warm season
Implantation of Pasto Siambasa
The preparation of the soil must be carried out in order to promote a good establishment of Pasto Siambasa being used appropriate equipment in the correct period, considering that the preparation of the soil is one of the most important aspects in the formation of fodder crops, you must get a loose soil which will allow us to have the appropriate planting depth.
Data to take into account is the planting area, an area that should not exceed 0.5 – 1 cm deep.
It is important to always cover all the seeds in the sowing, to avoid that they when they are on the surface of the soil do not dehydrate depending on the high temperatures. Use of the compactor roller that improves the quality of the sowing according to the uniform acceleration of the germination of the seeds.
For excessively sandy soils we recommend the use of the compactor roller before and after planting.
The establishment must occur when the luminosity and temperature are adequate for germination.
Like any other crop, this aspect is very important the more weed competition we have, the worse the implantation of the meadow will be. We must point out that Pasto Siambasa is a grass and as such of narrow leaf so that the weeds of this nature it is not possible to control chemically, for its control in post emergency it is advisable to advance the cut in order to avoid the gleaning of the same.
For the control of broadleaf we will use in post emergency we will use a combination of two herbicides in a single treatment from 30 days of crops, in case of much premature invasion of weeds the treatment can be advanced from 3 leaves. The active substances would be:
Fluroxipir + sulfonylureas (tribenuron methyl, tifensulfuron methyl, etc.)
Soil analysis serves to verify its chemical condition, nutritional deficiencies and imbalances. With the results obtained, we will be able to make the recommendations of the necessary nutrients. In the hypothesis of deciding not to invest in analytics, we indicate as a background subscriber 18-46-0 (DAP), 15-15-15 or 11-11-11 + microelements. And in each cut as a cover fertilizer any fertilizer rich in nitrogen. We must point out that soils with high percentages in organic matter the fertilizers provided are available to the plant for a longer time.
Water is necessary for germination to occur. When seeds are hydrated with soil moisture, they absorb water. It is the initial process of germination. For the seed to have the capacity to absorb water, the moisture in the soil must be constant during the first 15 days. We must remember that the depth of sowing is 0.5 – 1 cm, so we must maintain the relative humidity (not waterlogging) in that first fragment
It can be both for silage, hay and for direct grazing. In direct grazing, high intensity of livestock load and low frequency are advised.
The cutting of the plant either mechanically or in grazing should not be less than a height of 10 cm from the ground, to achieve an optimal regrowth.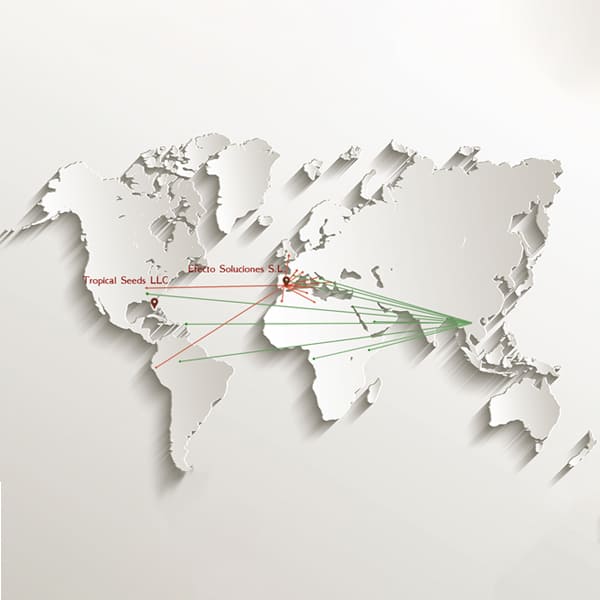 Responsable: Efecto Soluciones S.L.
Finalidad de la recogida y tratamiento de los datos personales: gestionar la solicitud que realizas en este formulario de contacto.
Derechos: Podrás ejercer tus derechos de acceso, rectificación, limitación y suprimir los datos en  info@efectosoluciones.com, así como el derecho a presentar una reclamación ante una autoridad de control.
Información adicional: En la política de privacidad encontrarás información adicional sobre la recopilación y el uso de su información personal. Incluida información sobre acceso, conservación, rectificación, eliminación, seguridad y otros temas.