Crescent Sunn (Crotalaria Juncea) is an annual herbaceous species of the Fabaceae or legume family, which stands out for its rapid establishment (large number of germinated seeds at 48 – 72 Hrs.) And a short vegetative cycle, only 6- 8 weeks, in which it can reach up to 1.8m
Crescent Sunn is the only Crotalaria Juncea species approved by the University of Florida (USA) as a dual aptitude crop.
Control of water and wind erosion
Weed control
Increase in macro and micro porosity of the soil
Control of soil fungal attacks
Control of the population of different types of nematode family
Great fixation of U.F. Nitrogen, in addition to P and K
Incorporation of fast mineralizing organic matter
Increase in auxiliary fauna
Short cycle (ideal as a second crop)
Outstanding protein percentage
High percentage of energy
Use for both hay and silage
High palatability
High in vitro digestibility
By making a forage use, soil improvement is also carried out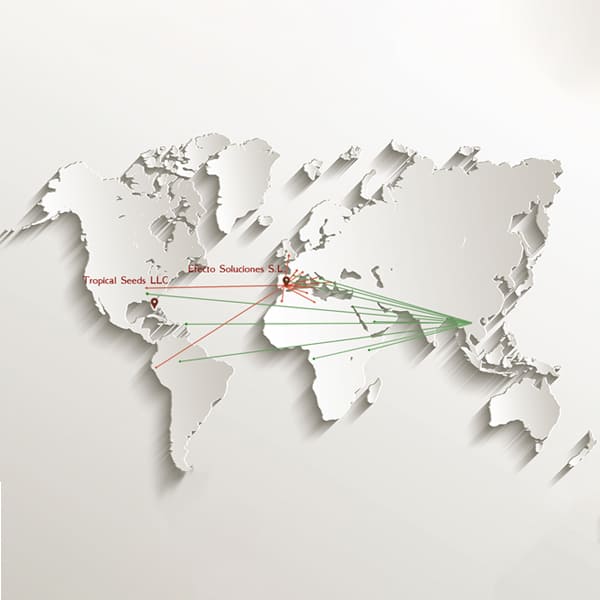 Responsable: Efecto Soluciones S.L.
Finalidad de la recogida y tratamiento de los datos personales: gestionar la solicitud que realizas en este formulario de contacto.
Derechos: Podrás ejercer tus derechos de acceso, rectificación, limitación y suprimir los datos en  info@efectosoluciones.com, así como el derecho a presentar una reclamación ante una autoridad de control.
Información adicional: En la política de privacidad encontrarás información adicional sobre la recopilación y el uso de su información personal. Incluida información sobre acceso, conservación, rectificación, eliminación, seguridad y otros temas.